I have so many things that I mean to post but never end up getting around to, so this month I will try doing it all at once!
I hesitated to post this picture because it is not up to my usual standards (grabbed the camera fast and forgot it was on manual settings wrong for the room) but I am going to because it cracks me up despite the yellowness.  Ben managed to get a hold of this ornament and was crawling around with it dangling from his mouth (hence the rush to photograph).   Whats funnier is he was doing his "I-don't-want-my-knees-to-touch-this-cold-hard-tile" spider crawl.  I will try to get a video of him doing that, it is the funniest thing ever…
Here is Natalie down at the mailbox to look for Christmas cards.  Why is she dressed like we're going to the beach?  Because it was 80 degrees out!
I haven't been keeping up with paperwork very well since Ben was born, look at my pile of papers to be shredded.  Good thing I have such an excited helper– too bad she needs constant supervision!   It would have been easier to do it myself.  Oh, and we are still only halfway through, keep having to stop so my poor little shredder doesn't get overheated and die.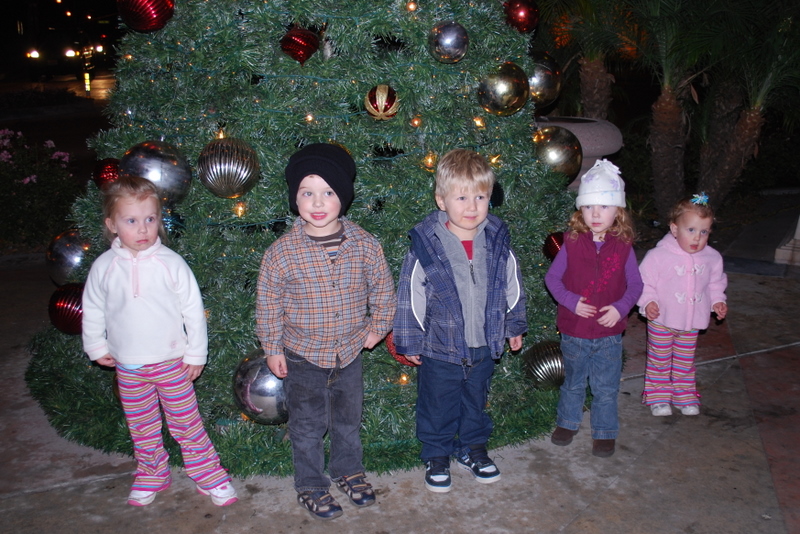 Here's Natalie and some of her friends down in Old Town Camarillo for the tree lighting, how cute are they?
Both kids are at an age where they like to smile for the camera!! Yes!!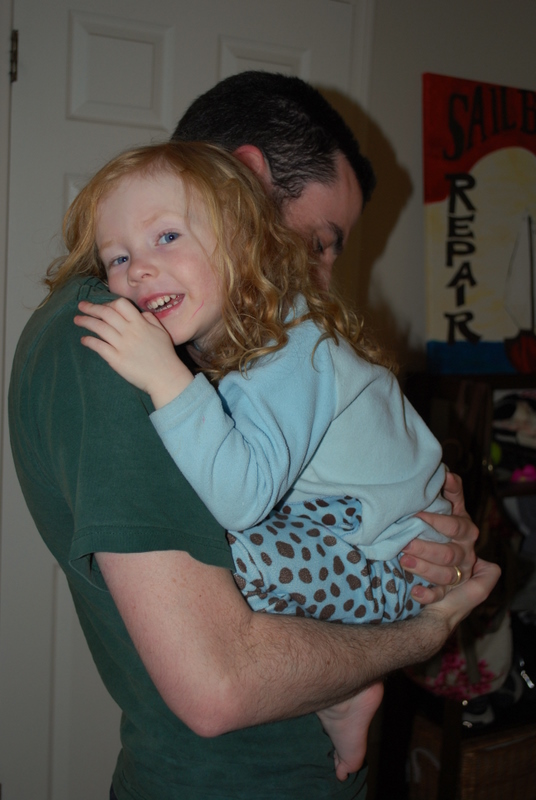 I love the way Natalie curls up into a ball when Andy takes her to bed after reading to her in our room.   She does it the same way every night.  I tried to get a picture but of course she started trying to ham it up so it's not very authentic.
We had a nice rainy week this month.  Natalie has been asking for months to play with my umbrella, but I won't let her because of course it would end up damaged somehow.  I told her that we can only use it when it's raining.  So of course when she woke up and it was raining, she was quick to remind me!   She was more than a little disappointed when her umbrella didn't help her fly like in "Mary Poppins", her current favorite movie which she saw at Grandma's house!
Hope you enjoyed the picture overload… 🙂