Last Saturday Andy and I went out to dinner to celebrate our anniversary.  The actual day is July 17, but hey, we have to take advantage of free babysitting whenever we can!
We left Ben and Nata at my parents' house.  They didn't even notice we were gone. Ben went to sleep like a champ, and when we came back to pick them up at 10:30pm, Natalie  told us (very politely) to "Go away", she wanted to sleep in Laura's bed!
Last weekend we were walking around downtown Ventura and scoping out all the unique places to eat.  This one in particular, Watermark on Main, had an menu that sounded very gourmet, so we decided to come back for our anniversary dinner.  It did not disappoint!  The food and wine and service were amazing, and I especially love that they serve Pellegrino instead of tap water, since I often ask for it when we go to other restaurants!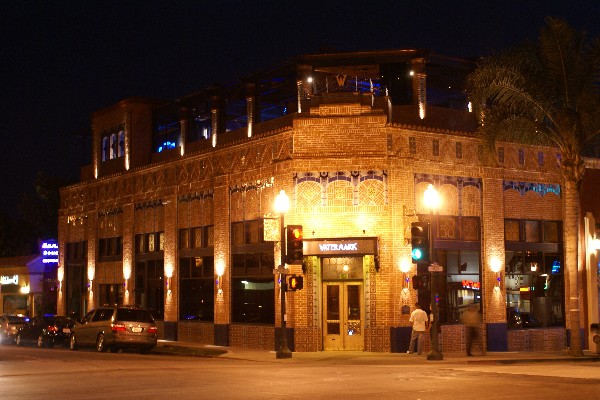 They also have a neat lounge on the roof.  We would love to go there again when it is less crowded!  It has a great view of the downtown area!
I'm sure Andy would want me to mention what we had–he was talking about it for days.  Andy had grilled mahi mahi with coconut curry sauce and mango sticky rice.  I had filet mignon– always a winner in my opinion.
So here we are, 5 years of marriage plus two kids… I think we are still looking young, honey!  (Good thing we started early.)