Last Saturday, my friend and early morning workout buddy Edith and I ran a 10K race (6.2 miles).  The Great Race of Agoura Hills is a huge, fun, well-organized local race.  It includes two different half marathons, a 10K, a 5K, and a kids 1 mile fun run.  Last year Edith and I ran one of the half marathons and loved it!  This year we decided to do the 10K, which Runner's World magazine listed as one of the "Top Ten" 10Ks in the country.
We were a little worried that we were going to have a repeat of Sunday's downpour at the L.A. Marathon, but thankfully the sun came out on Friday!   However, it was cold, about 40 degrees as we walked to the starting line and waited for the race to begin (an hour or so).  My teeth were chattering by the time we started running, but it was the perfect temp for racing. Here we are shivering at the starting line (next year we are bringing someone to hold jackets/be a photographer!).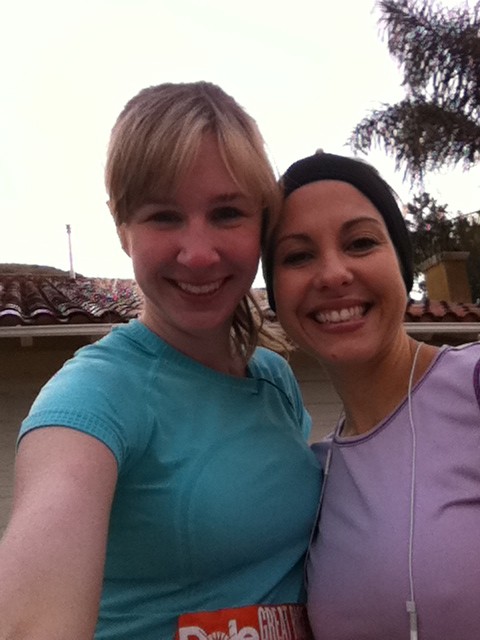 I have been adding a lot of speedwork to my workouts lately, trying to beat my own 10K personal record of 51 minutes and 50 seconds, which I ran 5 years ago in Texas.  Going into the race I did not think I would be able to do it, because I hadn't been able to  finish some of the harder speed workouts, and the course had more hills than I expected.   I didn't feel like my pace was very fast either,  so I was really surprised when the finish line came into view and I was just under 52 minutes!  I finished in 52:05, only 15 seconds slower than my best.   I have already signed myself up for another race in April so I can try again!
My running buddy finished a little bit behind me at 57 minutes… pretty good for being 6 weeks pregnant with baby #6!  She said, "I only had to stop to throw up twice!"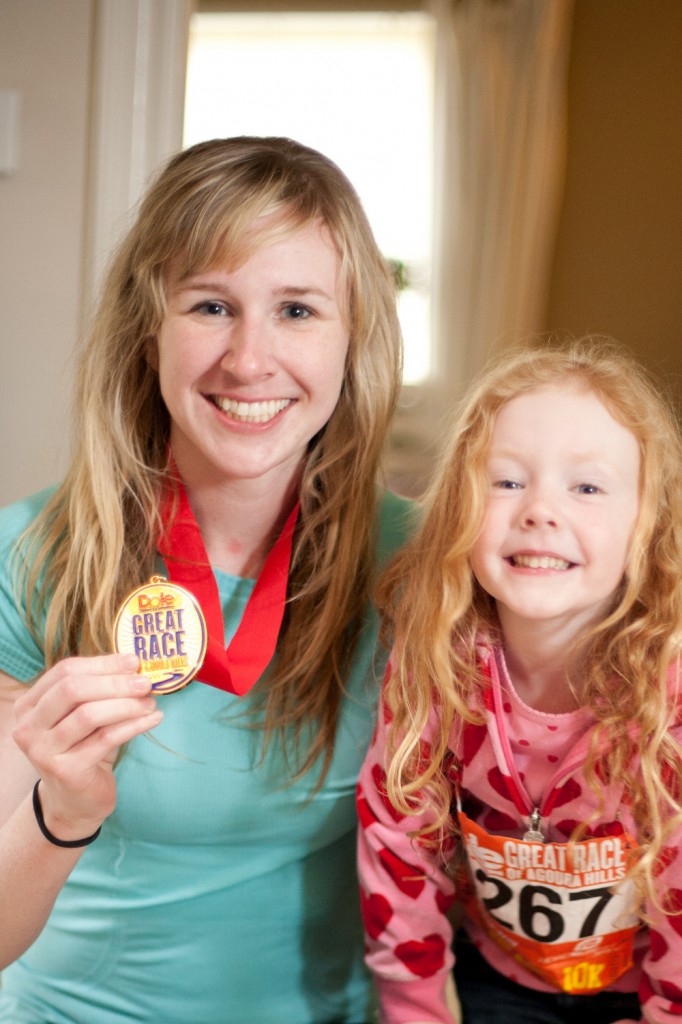 Natalie gets really excited about my medals (they give them to everyone who finishes) and always asks, "DID YOU BREAK THE TAPE THIS TIME???"