On December 6 I successfully completed my first marathon!  I had been training for it since October along with my sister Jamie and our long time best friend Melanie.  Years ago, Mel and I had set a goal of running a marathon at some point in our lives (Jamie already ran one 4 years ago!), and I am so glad that the timing worked out just right this year.  We traveled to Las Vegas for their inaugural Rock & Roll Marathon, which was sold out with nearly 28,000 people running!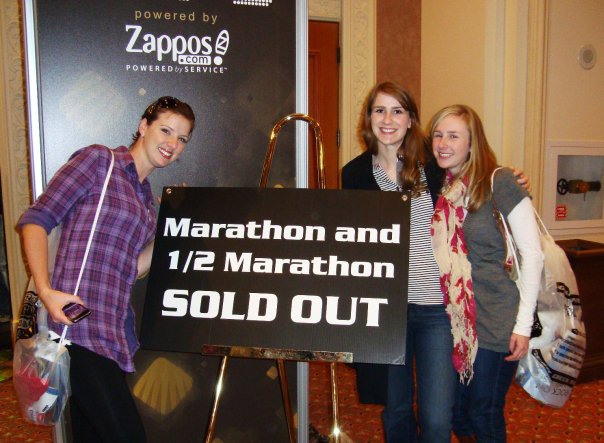 I can think of 3 people who would like to hear the long version (that is  my mom, my aunt, and Hillary!) so I am going to post it here.  It will be nice for me to have it written out to remember someday, too.
The beginning was definitely the most stressful part of our day; even though we knew exactly where to go and were only staying about 10 minutes away, we did not anticipate so much traffic at 5:30 in the morning!   We spend about 40 minutes in gridlocked traffic, very frustrated because we could see the Mandalay Bay hotel (where the race was to begin) right next to us.  Finally we had to jump out of the car (thankfully Mel's mom Cheryl was there to drive us) and run up the closed freeway ramp and on to the starting line.  Apparently everyone else was in the same dilemma, because when people saw us run by in our bright pink hoodies there was a mass exodus of runners from the cars stuck in traffic.  We made it to the starting area in just a few minutes.  We like to say that our marathon was actually 27 miles. 😉
(The pictures that don't have us in them were ones I found online.  I will try to share some more when I get the ones from Melanie's mom.)
Because 28,000 people can't cross the starting line at the same time, they divide everyone into groups called corrals and start a new group every minute or two.  Due to our lateness we were further back than we would have liked… but still just so happy to be there!  It was a chilly 35 degrees when this picture was taken in the starting area!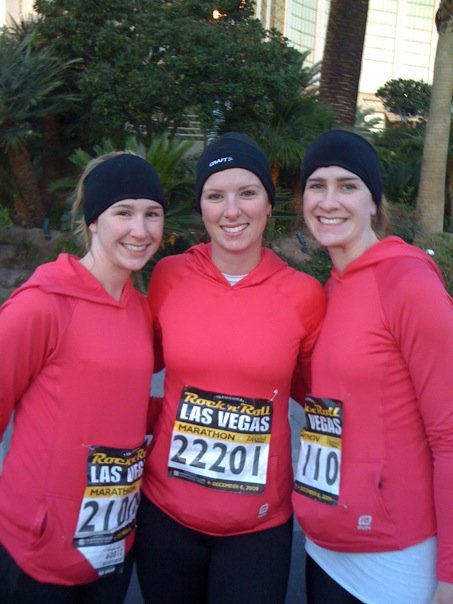 Our pockets are stuffed with gloves, chapstick, and various snacks for during the run to replace calories we burn.  The race provides this stuff called Gu but I think it's yucky so I bring my own food.
Crossing the starting line was one of the most exhilarating parts.  There was a platform above us with a band playing (Rock & Roll Marathon after all) and fireworks kept going for quite a while, everyone was energetic and cheering.  We finally crossed the starting line at 7:00.  They gave us timing sensors for our shoes (Andy says they were RFID tags), so we weren't "on the clock" until we crossed the actual line.
The first 8 miles were both fun and frustrating.  They were fun because of the excitement, adrenaline, and all the famous landmarks to look at as we ran down the Strip.  There was a run-through wedding chapel at Mile 3, and we saw quite a few newlywed couples finishing the race together.   There were tons of Elvi (that is the plural of Elvis, apparently) running: I heard they were trying to set a world record for largest number of Elvi.  There were bands playing music every 1/2 mile or so.  It was frustrating because it was SO crowded, plus we started further back than we would have liked due to being late, so we spent a long time weaving in and out of people who were running much slower than us.  Our 10K time was about 10 minutes slower than it should have been, and all in all I felt like we lost about 20 minutes in the first 10 miles.  Standing in line for the bathrooms at Mile 8 didn't help either!  Thankfully we weren't really concerned with our finishing time, but this made it take a long time to settle into a good, comfortable pace.  Usually we can "get in the groove" by 4 or 5 miles, this time it took more like 10 for me!

The half-marathoners broke off from us around mile 11 and finished their race back down the Strip, while those of us doing the full marathon turned right and ran off into the desert (or so it felt).  All of a sudden everybody disappeared and it felt pretty desolate!  Fortunately we are used to being the only runners out on the road thanks to many many 6 AM training runs, and the miles were still flying by.   Around this time, Melanie started feeling badly.  This girl is so hardcore– would you believe that four days before, she spent the night in the emergency room with a ruptured ovarian cyst on top of a cold and stomach virus??  That is dedication.  She really wanted to finish the race, so we kept our pace a little slower than usual.
Around the halfway point (Mile 13) I started feeling really good and warmed up despite the cold weather, but the three of us wanted to keep running together as long as possible.  Cheryl met us and took our picture at the 15 mile mark, which is where split up to each run at our own pace.   Training with my girls was so fun and motivating and I was very sad to say goodbye. But I think that when it comes down to it, running is a very personal sport, and I didn't mind completing the final 11 miles by myself.  It is hard to describe, but you can get in a different place mentally where your legs just keep moving and your brain works overtime to keep you occupied.  I always have my deepest thoughts and times of reflection when I'm on a long run by myself.  As much as I enjoy running with others, it was also really satisfying to know that I could do it on my own, without anyone there to push me.
Miles 15-21 were my best, for sure.  I was running around 9 minute mile pace and feeling really strong.  We were running down a long, straight road that was a slight uphill until Mile 19, at which point we turned around and ran back down the same street.
Mile 22 marked the longest I had ever run in training, so I was really happy to still be feeling pretty good.  Getting tired, but still in good spirits.  23 and 24 started to feel long.  My body was very achy from running so long.  I would tell myself "Just keep running till that sign/corner/person then you can walk" to keep myself moving (I never did stop to walk but somehow this thinking helped me mentally to keep going).  I was still holding a good pace and passing people, so that was encouraging.
Mile 25 was by far the most annoying.  I knew I was close to the finish line, but the course kept weaving around the parking structure behind the hotel where were had started.  I was SO READY to be done running!   I kept thinking the 26 mile marker must be around the next corner, but it wouldn't be.  So frustrating!  I was desperate for the finish line at that point.  FINALLY I saw the 26 mile marker.  There was a woman sitting in a chair cheering us on, saying "Only 5 more minutes!"  I remember thinking "It better not take me 5 minutes to run 0.2 miles, my legs might fall off first…"  Thankfully it was the last corner and there was the straightaway to the finish line!  Of course as soon as I saw it I got a burst of energy and sprinted the rest of the way, sure wish that could have happened sooner!  It was a great feeling to cross the finish line, where someone promptly handed me a medal for finishing.  My final time was 5:05 which I was pretty happy with considering I just wanted to make it the whole way!    Jamie and Melanie finished (separately) soon after… I'm not sure sure what their times were because everything was kind of a blur then but they couldn't have been more than 10-15 minutes behind.
Here is my finish line picture. Remember you have to subtract the 45 minutes it took to cross the starting line from the official start time.  I was having a hard time doing the math in my head at this point, haha.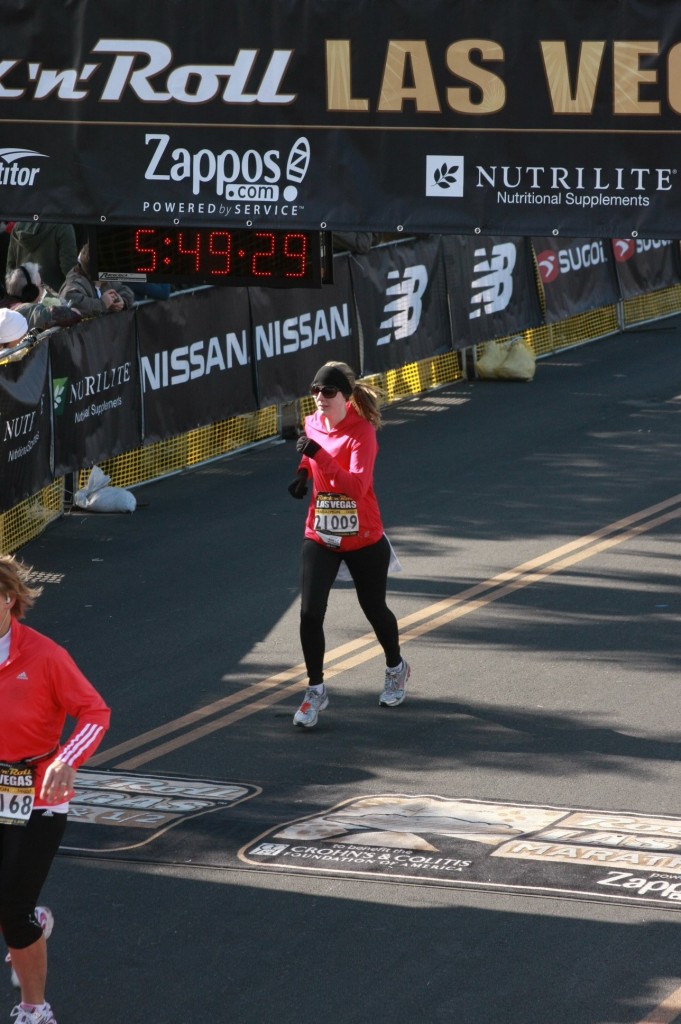 The training and race were hard work but at the same time enjoyable, not to mention rewarding.  I can't wait to run another marathon.  I have to say thanks to Andy for not only putting up with but encouraging me despite the huge time commitment and how tired it made me sometimes.  This was definitely a life highlight for me and I am so thankful to accomplish it!