Here in the Wilkinson household, we are eagerly anticipating Nata's first birthday coming up on the first! Here's a look at some of her latest exploits.
Nata is doing her part in the preparations by growing into new toys, like her uncle Mike's Nintendo DS.
She's having great adventures in mobility, as well as experimenting with the various uses of beverage straws!
Natalie really enjoys time with her family, and always has a blast in Grandma and Grandpa McLaughlin's living room.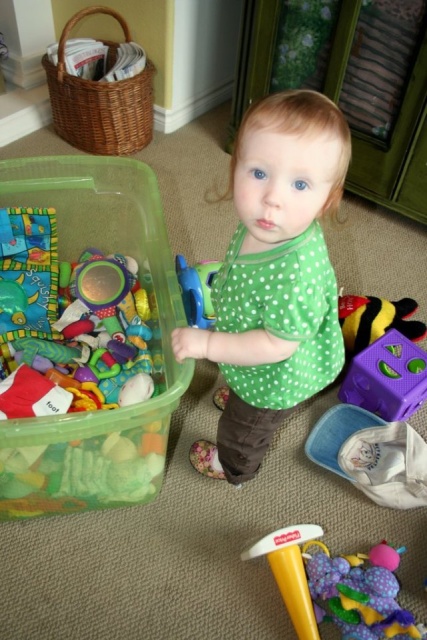 Sometimes, excitement gets the best of her, but we always enjoy it!
She also loves music, especially Alvin and the Chipmunks! She tries hard to play her own renditions.
Back at home, Nata is a good little "mommy" to her "babies," and climbs in to her wagon with them all by herself!
We haven't got any good pictures of it yet, but Natalie is walking here and there, though she still prefers crawling when she wants to get someplace. She's learning signs for things like "milk" and "please," and knows just when to use them, in addition to babbling up a storm! One of our favorite things is the way she gives us hugs when we get her out of bed. She is a sweet and thoughful girl, with a genuine sense of humor.
We are both so proud of our little one year-old, and are so looking forward to seeing her grow up!